The Tesla Model Y electric crossover is now the best-selling car in the world, knocking the Toyota Corolla from the top of the podium. 
New data from JATO Dynamics has revealed that in the first quarter of 2023 the Tesla Model Y is the best-selling car in the world, selling 267,200 in the first three months of the year, eclipsing Toyota Corolla's 256,400 sales.
This was predicted a few years ago by Tesla boss Elon Musk before the car was even launched and now it's happened.
Here in Australia, Tesla Model Y has been a hugely popular model since its launch in June last year and is already the second best selling SUV of any type, just behind the Toyota RAV4.
It has sold more than 14,000 of these electric SUVs in Australia. This year, over 5,000 have been sold with this quarter looking to be its best so far. The start of it saw April's sales coming up to 2,095 according to data from FCAI vFacts.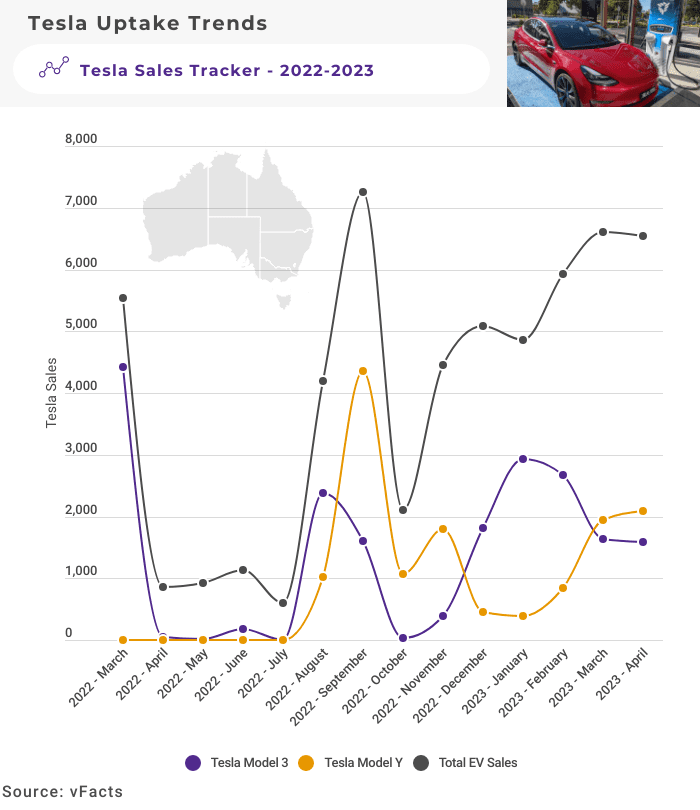 The sales continue to rise in Australia, despite the vehicle price not qualifying for many state and territory incentives due to its higher starting price when compared to the Tesla Model 3.
When comparing it to ICE vehicles, the Tesla Model Y is the best-selling Medium SUV in the over $60,000, in the country by a wide margin. 
With 5,264 sales, it far outpaces the next best-selling Medium SUV which is the Audi !5 with 1,618 sales.
Earlier this year, data compiled by Tesla and EV News enthusiast Sawyer Merritt on Twitter shows how Model Y has fared in total sales when compared to the world's best-selling vehicles in 2022.
Made a chart of the top 10 best-selling passenger cars worldwide in 2022 (in units).

Model Y was the only vehicle in the top 6 to actually grow its sales in 2022 (+88% YoY). Expect it to be #1 worldwide in terms of both revenue & unit sales in 2023. @elonmusk @Tesla pic.twitter.com/8ZIZXiiKcD

— Sawyer Merritt (@SawyerMerritt) March 8, 2023
This is a huge milestone for the EV transition. 
It shows legacy automakers that the time to produce and sell more compelling EVs is now if they are to survive the automotive valley of death.

Riz is the founder of carloop based in Melbourne, specialising in Australian EV data, insight reports and trends. He is a mechanical engineer who spent the first 7 years of his career building transport infrastructure before starting carloop. He has a passion for cars, particularly EVs and wants to help reduce transport emissions in Australia. He currently drives a red Tesla Model 3.