BYD has made a mark in Australia and New Zealand since launching in 2022, with the Atto 3 climbing to third place on the EV sales podium.
Now the brand is about to take EVs to the masses with a more affordable model, the BYD Dolphin with the electric hatchback heading to New Zealand.
BYD has announced its taking expression of interest from Kiwis who are ready to switch to the all-electric Dolphin hatchback.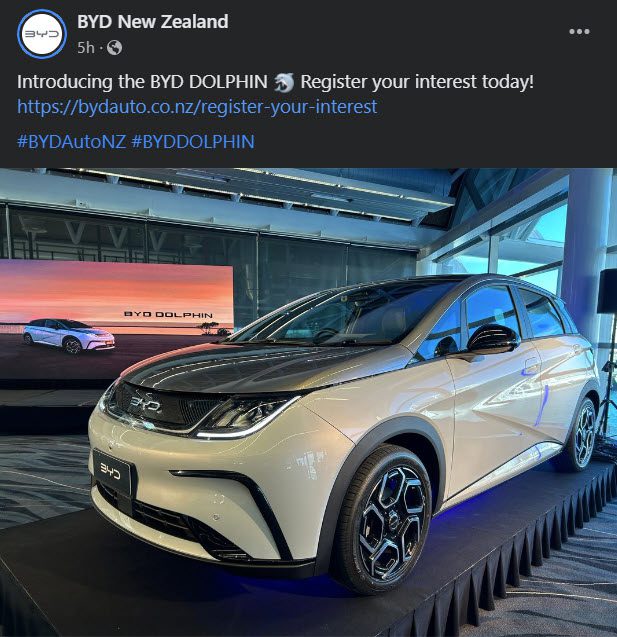 This is great news for buyers across the ditch looking at getting behind the wheel of a more affordable EV in the coming months.
The BYD Dolphin has been showcased here in Australia when a left-hand-drive version was seen next to the Atto 3 at its unveiling in February last year.
Since then, multiple sightings of the BYD Dolphin being tested appeared late last year, including the first reported sighting in Sydney back in November.
More recent sightings have been of a right-hand-drive Dolphin model without any camouflage in Sydney.
More BYD Dolphin pics pic.twitter.com/IOajdIo1W8

— ARM (@13arm13arm) February 17, 2023
The BYD hatchback features BYD's blade batteries and the extended range model will be able to get over 300 km of WLTP range from a 44.9 kWh battery.
Dimension-wise, the BYD Dolphin electric- hatchback is slightly shorter than the Toyota Corolla hatchback, coming in at a length of 4,290 mm. It's also 1,770 mm wide.
Last month, the BYD Dolphin hatchback did quite well in its local Chinese market with 30,462 sales in April. 
BYD has ramped up the production of more models as the local Chinese and global EV market seeks to find more affordable options.
Given the increase in production, BYD is starting to consider right-hand-drive markets like the UK where the Dolphin made an appearance last month at Fully Charged Live ahead of its official launch.
With the new Dolphin heading to New Zealand it's a positive sign for not only Kiwis eager to make the switch to an EV but also paves the path for a potential launch in Australia later this year.
Details of the specs and pricing will be announced closer to the launch. Starting price is expected to be around the early $A40,000s.

Riz is the founder of carloop based in Melbourne, specialising in Australian EV data, insight reports and trends. He is a mechanical engineer who spent the first 7 years of his career building transport infrastructure before starting carloop. He has a passion for cars, particularly EVs and wants to help reduce transport emissions in Australia. He currently drives a red Tesla Model 3.