A new study published in the Journal of the American College of Cardiology has shown the link between noise pollution from internal combustion engine vehicle traffic and increased levels of hypertension and cardiovascular disease.
The study titled Road Traffic Noise and Incidence of Primary Hypertension is considered the first of its kind because it has successfully separated the effects of noise pollution from the effects of air pollution on hypertension.
The participants come from the UK Biobank cohort study which includes over 500,000 participants from 22 locations across the UK.
Those who already had hypertension were then removed from the original cohort which provided a sample of 240,000 hypertension free participants at the beginning of the study. The diagnosis of primary hypertension was ascertained by hospital admissions, primary care, and self-reported.
Over an average of 8 years, participants then had their hypertension levels measured. Residential address-based annual mean road traffic noise levels were then estimated using the European Union (CNOSOS-EU) model, a common noise assessment method.
Data from the participants' lifestyle factors including smoking status, alcohol intake frequency, salt intake, physical activity level, sedentary time, and sleep duration were also considered enabling the researchers to seperate and isolate the influence of traffic noise from other factors. Previous studies haven't factored in lifestyle data making this study a first of its kind.
The study concludes that long-term exposure to road traffic noise is associated with increased incidence of primary hypertension, and that the effects were stronger in locations with higher levels of noise pollution.
The study looked at both 24-hour road traffic noise and night-time road traffic noise measured in decibels (dB). The analyses suggests that the link to higher rates of hypertension is highest in participants in locations with annual 24-hour mean traffic noise of over 65 dB and nighttime mean traffic noise over 55 dB.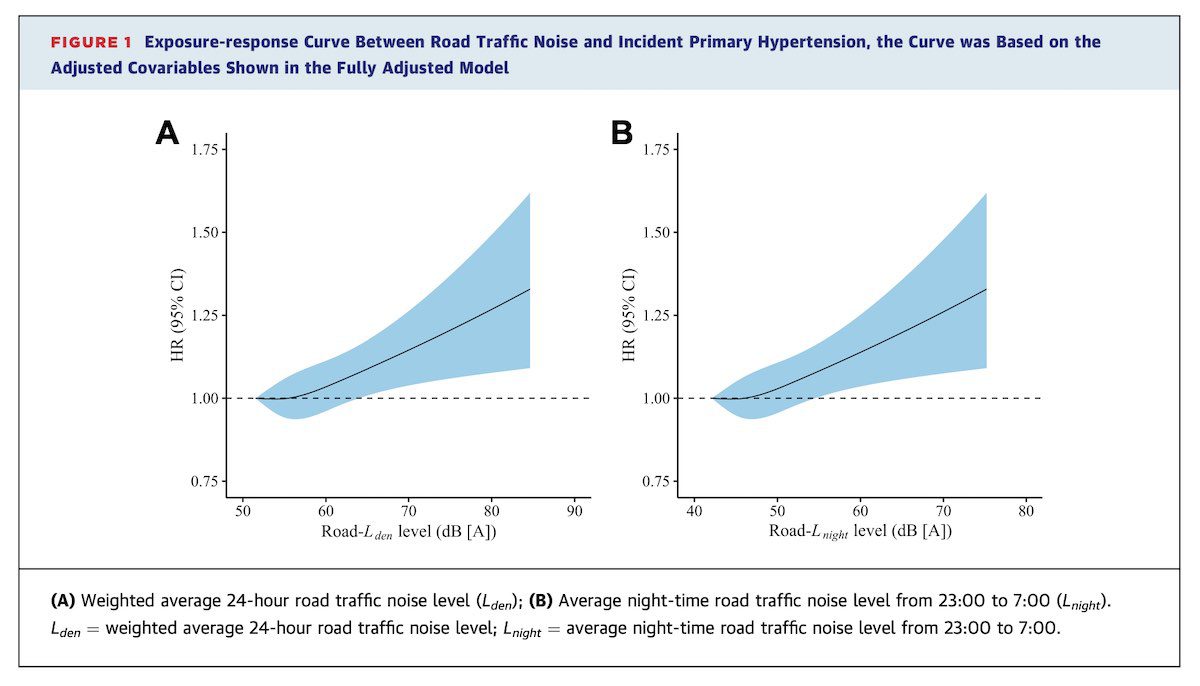 The researchers note that the links between road traffic noise exposure and hypertension have been studied previously however the quality of evidence has been rated as very low because many studies used cross-sectional or case-control design, which by nature limit interpretation on causality.
Health impacts of traffic noise fly under the radar
During the pandemic lockdowns, city traffic literally disappeared overnight. Many people living in cities noticed how all of a sudden the air was much cleaner and how peaceful it became without the constant background traffic noise.
This noise, created by millions of internal combustion engines roaring through our cities, all day every day, is so pervasive that most of us have become numb to it. Many of us don't consciously notice it until we get out of the city into nature. The lack of background traffic noise is one of the reasons why we feel our stress levels drop significantly when we get out of the city.
Traffic noise links to deadly hypertension
Hypertension is a condition in which blood vessels have persistently raised pressure. It can be caused by lack of physical activity, poor diet and prolonged stress.
The study begins by noting how widespread hypertension is globally:
"Elevated blood pressure contributes more to cardiovascular disease (CVD) and premature death than any other known and modifiable risk factor. It was estimated that over 30% of adults (1.39 billion) worldwide had hypertension in 2010."
"Traffic noise has emerged as an important environmental risk factor for CVD since 2010, with road traffic noise being mostly investigated for the associated health effects." the study says.
"Epidemiological and animal studies indicate that traffic noise can trigger annoyance and disturb sleep, thus activating autonomic system and overproducing stress hormones, with subsequent activation of the renin-angiotensin- aldosterone system."
"Chronic exposure to traffic noise may cause a number of pathophysiological adaptations, such as increase in heart rate and cardiac output and a rise in blood pressure. It could also lead to development of other cardiovascular risk factors such as hyperglycemia, hypercholesterolemia, and blood clotting factor activation. These changes would ultimately manifest as CVD." the study notes.
Commenting on the study, Canberra based cardiologist and physician at ANU Medical School Dr Arnagretta Hunter said:
"This study assesses the relationship between traffic noise and the new diagnosis of high blood pressure (hypertension).  The study finds an increase in the likelihood of diagnosis of hypertension in people exposed to traffic noise – and shows that the more noise the more likelihood of diagnosis."
"Notably the researchers have addressed the issue of air pollution from traffic which can confound analysis and found that noise is a significant factor independent of air pollution.   Road traffic noise had previously been associated with changes to mood and changes to sleep – both of which were thought to increase likelihood of hypertension.  This study confirms that link." said Dr Hunter.
Noise and air pollution combined is even worse
The study also included data on air pollution levels of particulate pollution (PM2.5) as well as Nitrogen Dioxide (NO2). The researches unsurprising found that elevated air pollution rates exacerbated the effects of traffic noise on hypertension rates.
"In combined effects analyses, the highest incident risk was seen in those exposed to the highest level of both road traffic noise and air pollution, suggesting effects of road traffic noise on incident primary hypertension may be exacerbated in areas where air pollution level is high." noted the study.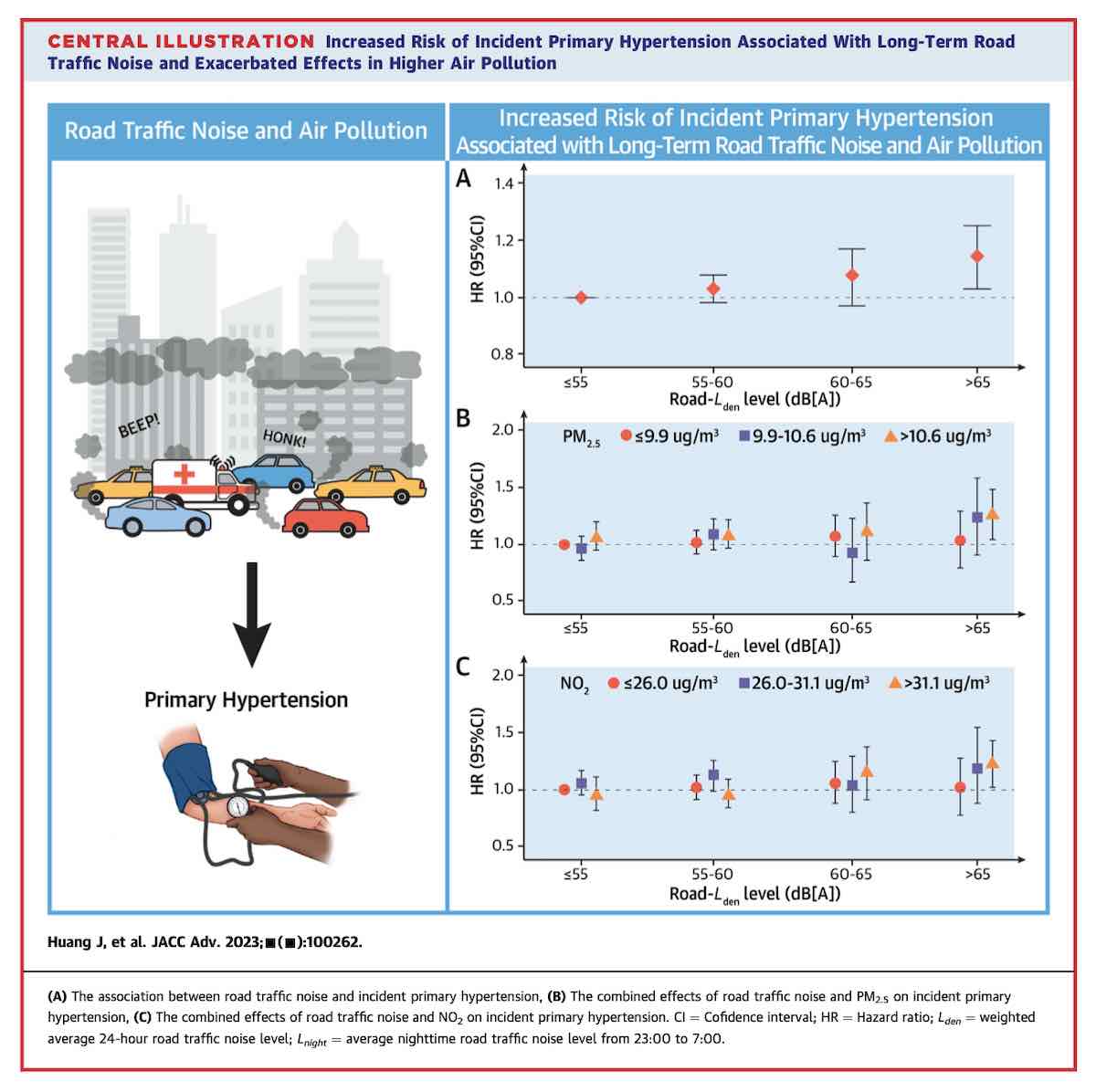 "It seems plausible that high levels of exposure to air pollution renders the body more sensitive to the hazardous effects of road traffic noise and vice versa." the study notes.
Decision makers must account for traffic noise when creating public policy
Similar to the need to factor in air pollution from internal combustion engine vehicles when determining things like fuel efficiency standards, policy makers must also consider the massive health impacts of vehicle noise pollution when creating public policy.
As many recent studies have shown, there is significant overlap between transport policy and public health outcomes.
The Australian government is currently finalising its National Electric Vehicle Strategy. The strength and ambition of this strategy will not only effect how quickly we can decarbonise our transport sector, it will also have massive implications for public health outcomes and costs.
Like petrol and diesel exhaust pollution, the negative health impacts from noise pollution generated by millions of internal combustion engine vehicles on our roads is now becoming clear. Decision makers have a duty of care to implement policies that reduce harm and that means accelerating the move to get noisy polluting vehicles off our roads.
"Health impacts of noise and air pollution should be routinely considered in road and infrastructure planning for our towns and cities." says Dr Arnagretta Hunter
"Making the transportation transition from petrol/diesel engines toward electric vehicles has dual health benefits – better air quality and less noise." she said.
"This is another study showing the links between our health and wellbeing, and the world around us.  The environment in which we live: the air, food, water, ambience, noise and housing, can all impact on health."
"Recognising these links can have significant benefits for population and personal health and wellbeing."
Road Traffic Noise and Incidence of Primary Hypertension was authored by Jing Huang, PHD,a,b Teng Yang, MS,a John Gulliver, PHD,c,d Anna L. Hansell, PHD,c,d Mohammad Mamouei, PHD,b Yutong Samuel Cai, PHD,c,d,* Kazem Rahimi, PHDb,*

Daniel Bleakley is a clean technology researcher and advocate with a background in engineering and business. He has a strong interest in electric vehicles, renewable energy, manufacturing and public policy.