Hertz, the car rental giant, has announced an expansion of its partnership with the ride-sharing company Uber with plans to deploy 25,000 EVs in Europe.
The expanded Hertz-Uber partnership will include a combination of Tesla and Polestar EVs. Hertz has previously placed large orders for electric cars from both brands to continue to electrify its total rental fleet.
Now the partnership between the two companies is expanding outside of the US. Europe will see 25,000 EVs from Tesla and Polestar being offered to Uber drivers in capital cities across the continent by 2025. The rollout is expected to begin in January 2023 in the city of London. Later in the year, it will be further expanded to Paris and Amsterdam as well. 
CEO of Uber, Dara Khosrowshahi, commented on the partnership's expansion into Europe by saying:
"As the largest mobility platform in the world, we know that our impact goes beyond our technology.
"Climate change is the most urgent global challenge which we must all tackle together – now is the time to accelerate. Expanding our partnership with Hertz into Europe will significantly boost our transition to zero emissions, helping drivers reduce running costs and cleaning up urban transport. We aim to become a 100% electric platform across Europe by 2030."
This comes post-Hertz's announcement of an order of 100,000 Tesla EVs in late 2021. Soon after the EV announcement, Hertz partnered with Uber to allow Uber drivers access to half of those Tesla vehicles as Hertz continued to receive deliveries from Tesla.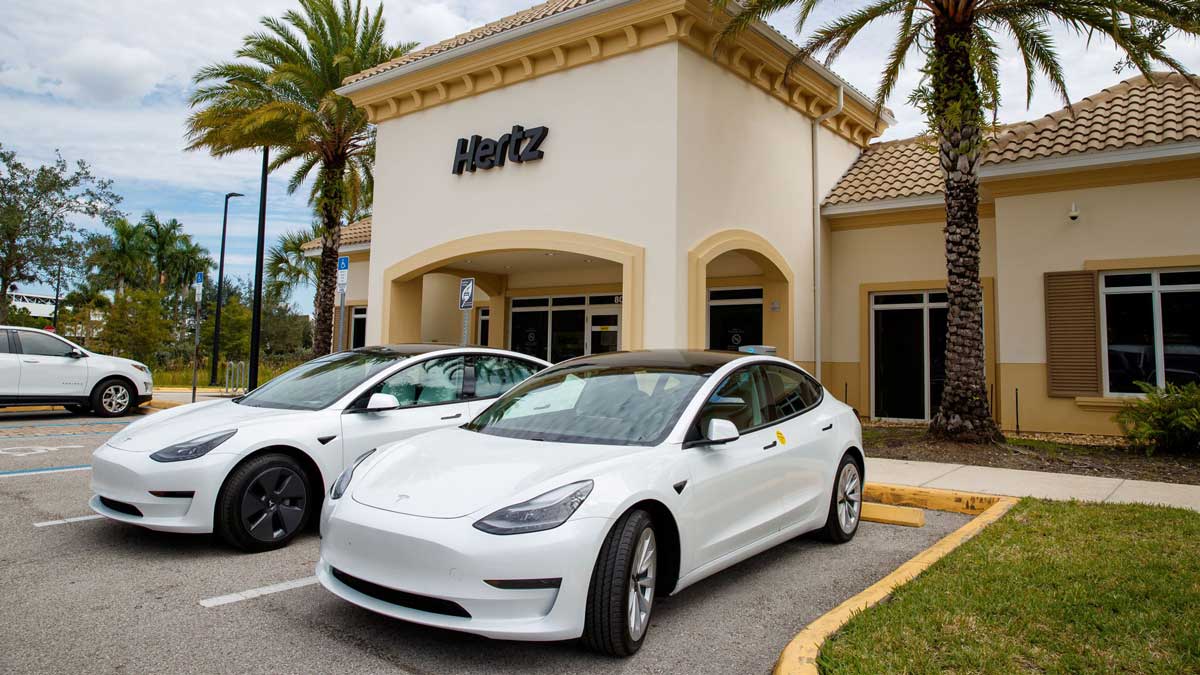 In August 2022, Hertz revealed that 20% of that initial 100,000 Tesla EV order had been received by the company meaning Uber drivers could start offering cleaner EV trips in the US. 
As of the same period, 15,000 Uber drivers were using Hertz-supplied Tesla Model 3 vehicles for ridesharing services. Hertz has also recently verified that 50,000 drivers have utilised the service.
After that initial 100,000 Tesla order, Hertz also ordered Model Ys as well as 65,000 Polestar electric cars in May 2022 which will be added to its global rental fleet. Locally in Australia, Hertz also announced the arrival of Polestar EVs in its rental fleets back in August last year.
Hertz has been increasing EVs in their fleet globally, as the company sees real results in a reduction in maintenance costs. In a call last year to its shareholders, Hertz mentioned that their EVs were 50% cheaper to maintain than similar petrol or diesel vehicles in its broader fleet.
The company's electrification goal was re-iterated by CEO Stephen Scherr when discussing the company's third-quarter financial performance last year:
"We've targeted roughly a quarter of the fleet to be EV by the end of 2024," Scherr told its shareholders' in that earnings call.
Overall, this partnership in Europe shows the direction ridesharing and rental fleets are heading. Rental fleets generally travel greater distances than passenger vehicles and hence emit more emissions. 
With the electrification of these fleets, a greater impact on transport emission reduction will be felt. Along with that, thousands of people will be introduced to an EV as passengers and get to experience the benefits of EV ownership before making the switch themselves.

Riz is the founder of carloop based in Melbourne, specialising in Australian EV data, insight reports and trends. He is a mechanical engineer who spent the first 7 years of his career building transport infrastructure before starting carloop. He has a passion for cars, particularly EVs and wants to help reduce transport emissions in Australia. He currently drives a red Tesla Model 3.