Electric vehicles are gaining quite a bit of traction this year and no other new entrant – apart from Tesla's Model Y – has created as much buzz, intrigue and excitement as the BYD Atto 3. I finally got to test drive one in Sydney this week and this EV surprised me in many ways. 
I got to see the build quality, test the way it drives, check out the quirks of the interior, its overall package and of course, compare the Atto 3 to the headline price of under $50,000.
It's a bit of a game changer and not in ways we expect it to be. Let's get into it starting with the build quality of what is currently the most affordable ground-up EV in Australia.
Premium feel without cutting corners
I for one have been looking forward to driving the Atto 3 for months and when I got the chance, I wanted to do as thorough of a review as possible for thousands of BYD customers in Australia who are yet to test-drive this EV themselves. 
Starting with the build quality, which or course is so important to so many. I have a background in mechanical engineering and so I am somewhat obsessed with build quality of cars. The first thing I generally try out is the way the doors open and close. The thunk of the door says a lot about the general build quality and feel of the car. 
European cars are known for their premium-sounding thunk so closing the BYD Atto 3 door took me by surprise. It sounded very much like a VW Golf or a Tiguan. It's on-par and in some cases better than many new Japanese and Korean cars I've driven in recent years.
Other areas I sometimes look at are under the bonnet and underbody panels to see welds and quality of paint in these locations. 
I found the BYD Atto 3 quality very premium even in the special blue paint that the car I drove had. 
As a quick comparison, my red Fremont-built Tesla Model 3 has a few spots under panels where Tesla has used "thinner" paint which are visible from the outside when you open the boot or the frunk. I didn't noticed this in the BYD at all.
Comfort you won't find in many ICE cars
Some of the photos and videos that most of us saw in recent months in the lead-up to this ground-up EV arriving in Australia showed seats that highlighted the comfort. Sitting in the car for the first time confirmed this. 
These seats are very well designed and are quite plushy. Something you'd expect to find in premium ICE cars that are way above the price point this car comes in at. There have been some concerns about the quality of seats from owners in New Zealand but with the car I drove, there didn't seem to be any issues.
With no transmission tunnel in the back, it's a lot easier for even taller folks to stretch their legs on longer road trips, making it a very comfortable ride.
Headroom is also quite good with the sunroof that came in the car that I test-drove. 
It really adds to the comfort levels and makes it feel roomier on the inside which I know is something most SUV owners are looking for.
Inside Atto 3, the roomier feel combined with the materials used makes it such a nice place to be in which is where most of the owners will be spending their time. 
Now, lets get into the way the BYD Atto 3 drives which is where it gets really interesting.
Quite a comfortable ride for Australian roads
Getting in the car and seeing a screen behind the steering wheel of this EV was quite nice. It had all the key stats you'd need when on the road such as drive mode, speed, range, regenerative braking levels, lane keep assist, cruise control, time and external temperature. 
It really shows that BYD has thought about the driver and the key things they'd need if they were stepping up from an ICE vehicle into an EV. 
The screen is just the right size as it gives you the right information without impacting the driver's line of vision. It's on a slight angle but I got used to it quite quickly.
Like many modern cars, there is a power-on button beside the gear shifter. It's easy to spot and pressing it turns the car on. There is also a drive mode selector lock which prevents accidental shifts into Neutral and Reverse if in Drive mode. 
When I got in the car, like with most EVs I switched the regenerative breaking to high to get the full EV experience. 
In the BYD Atto 3, the regenerative braking was quite good but does take a bit of time to get used too if coming from an ICE car. Once you get used to it, it's hard to go back to ICE automatics that keep creeping at a set of lights.
On the roads, the suspension felt just right for the conditions of our roads. Driving around Sydney and on the motorways with bumpy sections, it tackled it quite well.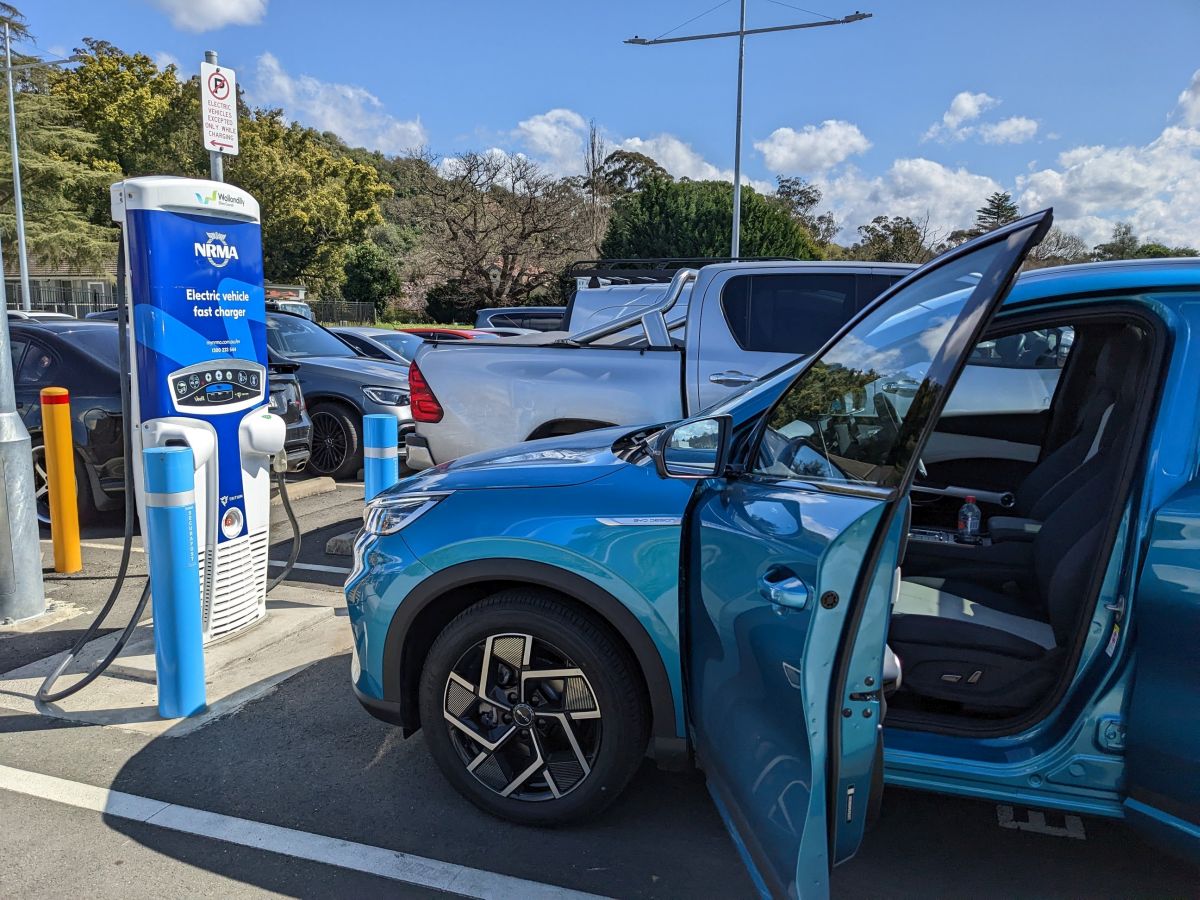 It felt quite composed and was ever more responsive in Sports mode with the steering stiffening around the curvy roads in the Macarthur Region. 
There was one section where I did feel the front tyres slip, accelerating out of a roundabout and planting the foot to the floor. The traction control immediately kicked in and the Atto 3 gripped the road.
There has been a lot of discussion online around the tyres that the Atto 3 comes with. I didn't see any issues with the tyres, especially when comparing them to tyres on similar-size ICE cars at this price point available in Australia. They handled well on Sydney city streets, highways and around high-speed curvy roads. 
Charging speed higher for longer
One big feature this EV has that no other EV under $60,000 has is the Blade Lithium Iron Phosphate (LFP) Battery. These are some of the safest batteries out there. 
The batteries are BYD's forte and with Tesla soon receiving their Blade batteries too, I was curious to see what they'd be like in their own ground-up EV, the Atto 3. 
I drove the car for nearly 165 km from full to test out the charging at Ampol's 180kW recent charger back in Sydney. At this stage, they are offering free charging until the end of August so it's power delivery is capped to about 60kW. 
Even with the limited charge rate and over 50% starting state of charge, the charge rate was constant.
It's worth noting that the Atto 3 is capable of over 80 kW of DC charging speed which I am sure it would hit easily at faster chargers. 
Even at 80%, it sustained a similar charge rage of 44.5 kW before dropping to 32kW at 90% state of charge.
This was really good to see, which means that the battery would charge fairly consistently and quickly up to 90% state of charge. 
The real benefits of this charging will be felt on weekend road trips for thousands of lucky owners this year. On that, I'm also glad to report that the way BYD Atto 3's blade battery charges won't ruin anyone's weekend!
BYD Atto 3 changes the EV game in Australia
After a day of driving nearly 200 km around city and country roads in New South Wales, I thought about what this EV means for Australian EV uptake and for the thousands of BYD Atto 3 customers who have been patiently waiting for their first EV.
SUVs accounted for over 50% of vehicle sales in Australia in 2021 so 1 in every 2 cars sold was an SUV. The BYD Atto 3 ticks that SUV box with quality build, comfortable drive, technology, charging and a whole lot more.
Australians are ready for EVs, hence the thousands of orders on this EV. This EV delivers what a ground-up EV is supposed to and at a price which is getting very close to what people pay for with ICE vehicles today. 
ICE vehicles like the Rav4 have over 18 months wait time and those owners will still have to visit a petrol station and pay whatever the rate of the day is. 
I don't know many people that are happy to pay for fuel and driving this EV SUV will mean you won't be. Thousands of BYD owners in Australia have a great EV they can look forward to and say goodbye to paying for fuel.

Riz is the founder of carloop based in Melbourne, specialising in Australian EV data, insight reports and trends. He is a mechanical engineer who spent the first 7 years of his career building transport infrastructure before starting carloop. He has a passion for cars, particularly EVs and wants to help reduce transport emissions in Australia. He currently drives a red Tesla Model 3.