2022 has been a big one for electric cars in Australia, as more carmakers introduce battery-powered models to supply growing interest from drivers wanting to escape the bowser, or stop contributing to harmful emissions, or both.
Whilst EV deliveries in the first half of the year were stymied largely by Covid shutdowns in China – essentially cutting off supply of the highest volume EV manufacturer, Tesla – a swathe of new EV models are now landing on Australian shores.
Not least of those is the Tesla Model Y, which has just claimed the title of number one best-selling car in California,  a market 50% larger than Australia in terms of population, and which buys about 60% more cars per year.
And then there is of course the BYD Atto 3, which will be delivered to first customers imminently. as the brand makes its local debut. Priced from $44,900 for the Standard Range variant, it is currently the most affordable electric car on the local market.
Alongside the Tesla Model 3, both will make the top three best-selling cars in 2022 (albeit with the BYD lagging behind, although still in the thousands.)
Offering space and performance in the case of the Model Y, or vehicle-to-load and a budget sticker tag in the case of the Atto 3, the two present very different value propositions.
But there are still a few more models yet to be launched in 2022. We take a look.
Cupra Born – late 2022
The Cupra Born will be the first battery-electric car to reach Australia from the Volkswagen automotive group when it arrives in late 2022. With first orders slated to arrive in early 2023, it is billed as an edgy version of Volkswagen's ID.3 and will also be made in Zwickau alongside the VW electric hatchback.
In hatchback terms it won't be cheap – it is expected to be priced somewhere between $50,000-60,000.
Importantly, that price includes a big 82kWh battery and the longest range of any electric hatchback on the Australian market. Rated for 548km under the European WLTP cycle, it should offer a range in the high 400s in real-world conditions.
Don't expect the Cupra Born to be a menace at the lights, however: though more than capable of beating many ICE cars, it has a modest acceleration of seven seconds from 0-100km.hr.
See also:
Cupra Born first impressions: Edgy electric hatch fills long-range gap
Cupra lands in Australia with electric hatch and plans for two more EVs from 2025
Kia e-Niro
Kia will introduce the refreshed e-Niro in the third quarter of 2022, and along with a striking new contrasting C-pillar option, will come with vehicle-to-load capabilities both inside and externally.
Available in two trims, the e-Niro S starts from $65,300 before on-roads while the flagship GT-Line trim will start from $72,100.
It is the first Kia to undergo the carmaker's local suspension and tuning program since the start of the pandemic, and also the first to bring Kia Connect connectivity and telematics to Australia.
The S trim and GT-Line Niro EV have the same 64.8kWh battery as the outgoing model, but an additional 5km in range, bringing the combined distance to 460km (WLTP).
On a DC fast charger, charging may be done at a maximum rate of 100kW, improving charging durations from 10 to 80% (43 to 45 minutes) by nine minutes. On AC chargers, charging can be done at a maximum rate of 11kW, completing 10 to 100% charging in 6 hours and 20 minutes.
See also:
Kia Niro EV: Spacious family cabin with cheapest V2L on market from HMG
Kia reveals all-new Niro EV pricing, details and specifications
Kia EV6 GT – Q4, 2022
The Kia EV6 GT is the highly anticipated flagship version of Kia's all-electric EV6 crossover.
Having arrived in late July for local tuning, the EV6 GT is expected to launch locally in the fourth quarter of 2022.
Official pricing and specifications are yet to be announced for Australia, but we do know that the "go-fast" EV6 GT will be Kia's fastest to date, sprinting from a standing start to 100km/hr in just 3.6 seconds thanks to 430kW dual motors and 740Nm torque.
And it is understood that a number of $2,000 deposits have already been put down for Kia's halo car according to the brand's local arm. Likely priced somewhere around the $100,000 mark, it will come standard with the same 77.4kWh battery as its EV6 stablemates.
See also: Kia puts halo electric EV6 GT through local rough road paces
Volvo C40 – Q4, 2022
The sleek C40 crossover is the first battery electric car from Volvo that is purely zero emissions, with no internal combustion engine equivalent.
Slated for arrival from the start of the fourth quarter, the low-profile, compact C40 is available in two formats including a single motor variant priced from $74,990 before on-roads and a dual motor option from $82,490 before on-roads.
Despite having a smaller battery, the single-motor front-wheel drive model has a higher WLTP driving range (real world range will depend on driving styles and conditions), providing an estimated 434 kilometres on a single charge as opposed to 420 kilometres for the dual-motor model.
The 300kW/660Nm dual-motor powertrain with all-wheel drive delivers a standing start to 100km/hr in just 4.7 seconds.
A 150kW DC fast charger can charge a 78kWh lithium-ion battery from 10% to 80% capacity in 40 minutes, giving it an estimated 420km of WLTP-certified range.
See also: Volvo reveals Australian pricing and specs for new C40 Recharge electric SUV
BMW i7 – Q4, 2022
Planned to launch alongside a 740i mild hybrid, the expansively roomy BMW i7 promises to be a veritable executive-level electric car.
And it will bear an equally veritable executive price, starting from a little less than $300,000.
For that, the i7 offers fifth-generation BMW eDrive technology and dual motors producing 400kW power and 745Nm torque, a driving range of up to 625km (WLTP) and acceleration from 10-100km/hr in 4.7 seconds.
But it is perhaps the high-end features that the i7 will offer that will capture the attention of the well-heeled.
In addition to fully automatic doors, a 31.3-inch BMW Theatre Screen, and a third generation BMW Wallbox for charging at home as standard, the i7 also includes a free five-year subscription to the Chargefox network.
See also: New fully electric BMW i7 to launch in Australia this year at $300k
Genesis GV60 – Q3, 2022
Already on the ground in Australia for local homologation, the premium GV60 will be on offer in a $103,700 luxury variant as well as a $110,700 performance variant.
The AWD luxury variant will have a total 234kW of power, with 160kW of that going to the rear axle. This car is mostly rear-wheel-driven because its front-wheel drive will only produce 74kW. The maximum torque this combination can produce is 605Nm.
The Performance AWD GV60 will instead produce the same amount of power (180kW) from the front and back axles, totalling 360kW and the maximum torque of 700Nm.
It will have the same 77kWh battery pack, 800-volt ultra-fast charging, and bidirectional "vehicle-to-load" capability. The top-of-the-line "Performance" version will have 321kW of power and ride on 21-inch alloy wheels.
See also: Genesis GV60: Pricing, specs and details of luxury EV officially revealed
Mercedes-Benz EQA350
A considerable influx of new all-electric Mercedes-Benz will hit the showrooms before the end of 2022, including the more powerful EQA350 (the EQA250 arrived in 2021), the EQB sedan in both 250 and 350 format, as well as the EQE touring sedan.
Official local details are yet to be announced for these models, and the launch of the EQA350 is several months behind schedule.
The EQA 350 4Matic's dual-motor electric engine produces 215kW and 520Nm of power, and according to WLTP testing, the vehicle's 66.5kWh battery can provide a range of up to 432 kilometres without emitting any emissions.
This is an increase of 75kW and 145Nm over the EQA 250's single motor, and it delivers a 6.0-second sprint to 100 km/hr. Pricing is yet to be announced but expect it to sit above the EQA250's $76,800 before on-roads pricing.
See also: Mercedes EQA 250 review: An electric SUV tailored for the city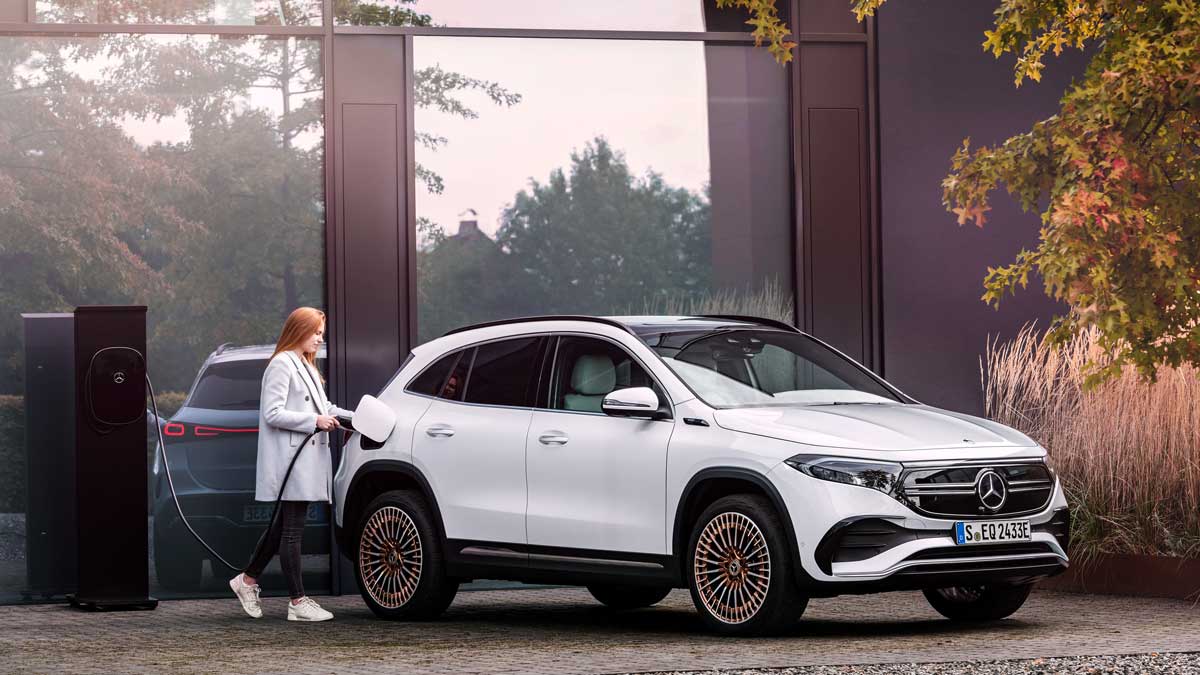 Mercedes-Benz EQB250 and EQB350
As the electric equivalent to the combustion engine GLB, the EQB a mid-size SUV that sits between the compact EQA and the larger EQC SUV.
Larger families may be pleased to hear that the EQB comes in a seven-seater as well as five-seater layout, at least in Europe.
While it is yet to be confirmed if this option will make it to Australia, this is a possibility given Mercedes-Benz has expressed commitment on making sure Australia does not miss out on any of its electric offerings.
See also: Mercedes-Benz launches seven-seater electric EQB in Europe
Mercedes-AMG EQE 53
The "one bow" design of the EQE makes for a smooth seamless offering, with 21″ wheels and up to a generous 654km WLTP range that – for those in the market for a premium electric tourer – makes it the perfect long-distance car.
Local details and specs are yet to be announced. However, while the initial global launch of the vehicle promised both 350+ and 43 4MATIC variants, it will be the 53 4MATIC that will arrive in Australia first.
The EQE350+ delivers 215kW/565Nm, while the entry-level AMG 43 delivers 350kW/858Nm. The AMG 53 – which in Europe starts at €109,777.50 (around $A160,000 converted) delivers up to 505kW power and a massive 1,000Nm torque.
See also: Mercedes teases new EQE electric sedan, expected for Australia
Bridie Schmidt is associate editor for The Driven, sister site of Renew Economy. She has been writing about electric vehicles since 2018, and has a keen interest in the role that zero-emissions transport has to play in sustainability. She has participated in podcasts such as Download This Show with Marc Fennell and Shirtloads of Science with Karl Kruszelnicki and is co-organiser of the Northern Rivers Electric Vehicle Forum. Bridie also owns a Tesla Model Y and has it available for hire on evee.com.au.
Check out our
Models pages
for news and analysis, reviews and road trips on this and all EV models currently or soon to be available in Australia.