Continuing its leadership of the world's transition to electric vehicles, Norway registered a new record in electric car sales in March and is well on its way to achieving 100% electric car sales by 2025.
Leading the charge by a metaphorical mile in March was Tesla, where the Model Y claimed 20% of the Norway market followed by the Model 3 which claimed 10%.
A total of 13,983 new battery-electric passenger vehicles in March, corresponding to a breathtakingly impressive 86.1% of all new passenger vehicles registered in the month. Including plug-in hybrid vehicles, the market saw a nearly 92% uptake of electrified transport.
According to numbers published by Norway's Road Traffic Information Council (Opplysningsrådet for Veitrafikken, OFV), a total of 16,238 new passenger vehicles were registered in March, a marginal increase on March of 2021.
But the most important numbers were the number of new zero-emission passenger vehicles – which would appear to refer strictly to battery electric vehicles, considering that OFV singles out new rechargeable hybrid passenger cars as two separate classes of vehicle, rechargeable and non-rechargeable.
While there were only 1,387 of both types of hybrids, the number of zero-emission passenger cars registered in March reached 13,983.
Accounting for 86.1% of all new vehicles registered in March, new battery electric vehicles (BEVs) grew 62% over the same month only a year earlier.
Norway saw similarly stunning numbers in January, when BEVs accounted for 83.7% of all new cars registered that month, with a total of 6,659.
The first three months of 2022 have seen a total of 26,803 new BEVs, an increase of nearly 40% over the same quarter a year earlier.
Unsurprisingly, and following a nearly global trend, Tesla secured the largest share of new vehicles registered in March, with 5,002 models registered accounting for 30.8% of all new vehicles.
By model, the Tesla Model Y saw a total of 3,305 new models registered, while 1,696 Tesla Model 3s were registered, accounting for 20.4% and 10.4% respectively.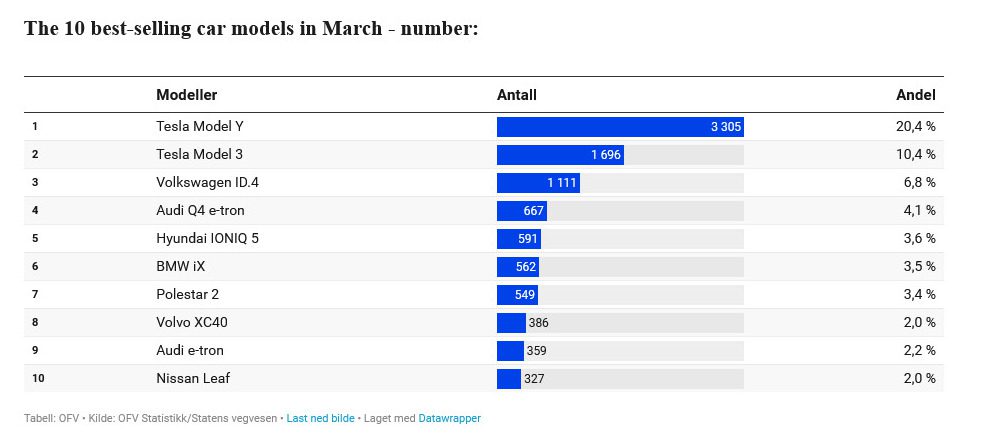 German automaker Volkswagen was second with 1,498, with its electric ID.4 leading the way with 1,111 models registered. Third was Audi, with 1,069 models registered, with 667 Q4 e-tron's registered.
The fifth best-selling model in Norway was also an electric, with 591 Hyundai Ioniq 5s registered through March.
In fact, all of the top 10 vehicles were electric vehicles, further highlighting their dominance in Norway, with the 6-10th vehicles for March in Norway being the BMW iX, Polestar 2, Ford Mustang Mach-E, Audi e-tron, and Skoda Enyaq.
Joshua S. Hill is a Melbourne-based journalist who has been writing about climate change, clean technology, and electric vehicles for over 15 years. He has been reporting on electric vehicles and clean technologies for Renew Economy and The Driven since 2012. His preferred mode of transport is his feet.