A classic Land Rover converted to an electric drivetrain by Victorian-based Jaunt Motors has been given the thumbs up by EV and general car enthusiast Paul Baker after he helped to crowdfund the start-up.
But, the road trip was not without some dramas after a blackout and a glitch in the onboard charger left him without enough electrons to get home.
Baker, who once owned a 2012 Nissan Leaf and now owns a Tesla Model 3, recently took the converted Landy for a spin one weekend courtesy of Jaunt, and as thanks for this participation in the Indiegogo crowdfunding campaign in 2019.
He was one of 107 backers who helped to raise almost $20,000 for the EV conversion startup, and he tells The Driven he took part "because of the nostalgia of driving a classic, and because I have rated classic cars for a long time."
And we are talking real classics. The earth and environment civil designer says he used to own a 1963 MkI Mini Cooper S that was fitted out with a dashboard that replicated the BMC Factory Works Rally vehicles. To honour it he has the plate "GRX310" on his Model 3 in reference to the 1967 GRX310D Mini Cooper S Works rally car.
Step forward to 2022 and Baker has now had the chance to take one of Jaunt's converted classic Land Rovers for a day trip out to Warburton in the Yarra Valley outside Melbourne to share the nostalgia – coupled with modern electric drivetrain technology – with his kids.
It was an interesting experience, he says – and not without some drama.
Because it is a conversion, Jaunt has left the manual gear box in the Landy. It means the driving experience is somewhat similar to driving a combustion engine car but without the need for the clutch.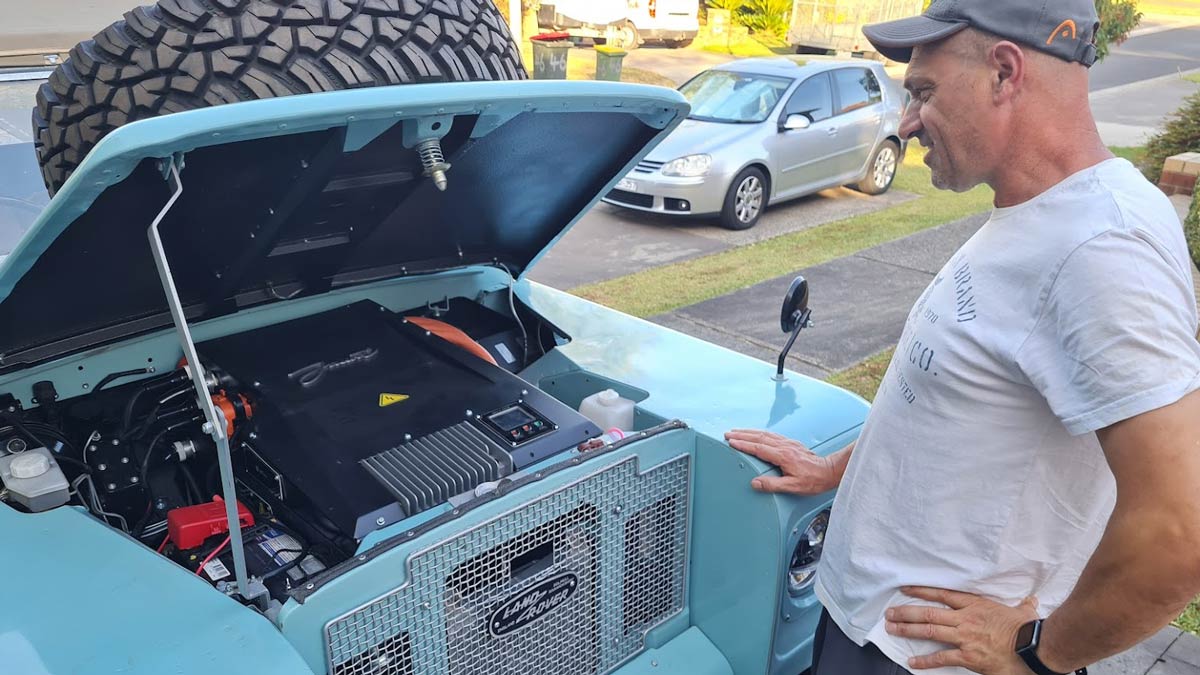 "Having never driven a Land Rover before, and having not driven manual in 20 years – it was really interesting getting into how to change gears and revs – so that was fun," he tells The Driven.
"It took half a day to get it into it – shifting from second gear to fourth gear (by listening to the sound of the motor). You get up to the traffic lights and you can stop the car without putting the clutch in because it doesn't stall."
Unfortunately, there were some limitations on the trip due to a glitch with the onboard computer which manages the charge rate.
"I had grander plans to go up to mountains and do gravel sealed fire trails," says Baker. But, a blackout at the Baker house left he and his family deciding to drive out to Warburton about 70km east of Melbourne to plug into a Tesla destination charger.
After adding in 1kWh, the charger turned off, he says. "It probably had enough charge to get back home but not back to Williamstown (to return the vehicle to Jaunt)," he said.
The irony of being an experienced EV owner was not lost on him: "So, in six and a half years of EV ownership, I finally ran out of juice," he said. "But not diesel or petrol – electrons."
He says one improvement he felt could be made to the conversion design was to move the battery status indicator, and having the "fuel gauge" light come on a bit sooner.
"The current fuel gauge is not in the line of sight," he said. It took his teenage off-sider keeping an eye on the gauge due to its location.
He also said that after giving feedback to Jaunt, the "guess-o-meter" (GOM) that indicates how much range is left on the vehicle will be looked at.
Dave Budge, co-founder and CEO of Jaunt Motors, tells The Driven that having an "outsider" take the vehicle for a test drive was invaluable.
The company has made three vehicles since its inception in 2018, reviving old Land Rovers to create a company that is focussed on providing a clean take on the classic off-road 4WD.
With three years development and testing now under the belt, Jaunt is working on its next generation of converted Land Rovers.
"The one that Paul took out has a 53kWh battery with 10 Model S modules," he says. "The range you get with that is all about the aerodynamics – a car like that is a brick."
He says that driving it around under 60-80/km/h23 will get 250km off a single charge, and driving at 100km/hr will deliver about 100km.
Additionally, it only has a 125 volt system which means it is not suitable for DC fast charging, and with a 6kW onboard charger it is designed to be taken on an adventure drive – such as out of town and down a dirt road to a favourite beach spot – and charged overnight.
While the Jaunt team has done substantial testing, there are scenarios they haven't covered.
"This is why we want people to test drive and push the cars in a way that we haven't," he says. "We throw the keys to someone and say, drive it how you want to drive it."
Baker's drive resulted in a few outcomes, says Budge.
"The first thing one was the day reached 35 degree temperatures. It set off a bunch of heat sensors – we'd never got to that before. Paul was the first to see it happen in the wild."
"We have now deduced that we had the temperature warnings signals around the wrong way on two components," he says, saying the components involved weren't actually too hot.
Additionally, after Baker went to the Tesla destination charger because his home had a blackout, they found it started working but after Baker walked away the charger had turned itself off.
"The interesting thing is we had tested on a Tesla destination charger before but hadn't left it to charge – and there's no app like with Chargefox to see it stopped charging."
The test drive also led them to tweak the "guess-o-meter" (GOM) so that the "fuel warning" light comes on sooner, and add little bit more buffer on the battery.
"It's changing the way you perceive the battery empty," he says. "You've got more kilometres actually left but the range anxiety kicks in earlier and you're less less likely to run out."
Jaunt is now working on a series of post-1985 Land Rover Defender models that will have up to 150kWh batteries and DC charging at a rate of up to 100kW.
For Baker, he says, "To be able to provide feedback is part of the joy of the test ride." He is also looking forward to test-driving the next converted Land Rover iteration without a gearbox, and using a Tesla motor.
Bridie Schmidt is associate editor for The Driven, sister site of Renew Economy. She has been writing about electric vehicles since 2018, and has a keen interest in the role that zero-emissions transport has to play in sustainability. She has participated in podcasts such as Download This Show with Marc Fennell and Shirtloads of Science with Karl Kruszelnicki and is co-organiser of the Northern Rivers Electric Vehicle Forum. Bridie also owns a Tesla Model Y and has it available for hire on evee.com.au.