Nissan Leaf owners Shane and Karen Maher, who run the Youtube channel EV4ME and were the first drivers in Australia to buy a long-range Leaf, have shared how they used their electric car to power their home's appliances during a recent  blackout in the ACT.
The Nissan Leaf has vehicle-to-grid and vehicle-to-home capabilities, neither of which have yet been implemented in Australia officially (The Driven has contacted Nissan for an update on this), so exactly how have the Maher's managed to do it?
In their video posted on Youtube (see below), the couple explain there was a bit of luck involved, but essentially it came down to know-how and ingenuity.
After the storm, which lashed Canberra in early January and knocked down trees causing damage to the local electricity transformer, the Mahers realised they needed to take action as the grid connection was likely to be out of action for a few days.
"We assumed that we weren't going to have power for a couple of days so (we) headed down to Jaycar and bought a Powertech 12-volt to 230-volt AC inverter," said Shane.
"It was the last one on the shelf – we were really lucky there. It's rated at 1,000 watts continuous so it can deliver 1,000 watts of power over time and 2,000 watts peak," Shane said.
As he explains it, this means the inverter is suitable "if you've got a motor starting … or something like that needs to deliver that peak power for a second or two."
They also spent $3o on two Anderson cables, he says. "The Anderson cables are those those cables that you just hook one side to the inverter and it terminates to an Anderson plug and then the other side to the 12-volt battery and that comes to an Anderson plug and then you just join them together," he explains.
They connected it to the 12-volt battery in their black Nissan Leaf (they own two Leafs, with the white one being a long-range vehicle). Said Karen: "Hot showers here we come."
Using the inverter and Anderson cables connected to the 12-volt battery, which is also connected to the car's larger battery, the couple were able to power their hot water service, a freezer, and a powerboard to charge iPhones, iPads, powerbanks and rechargeable lanterns.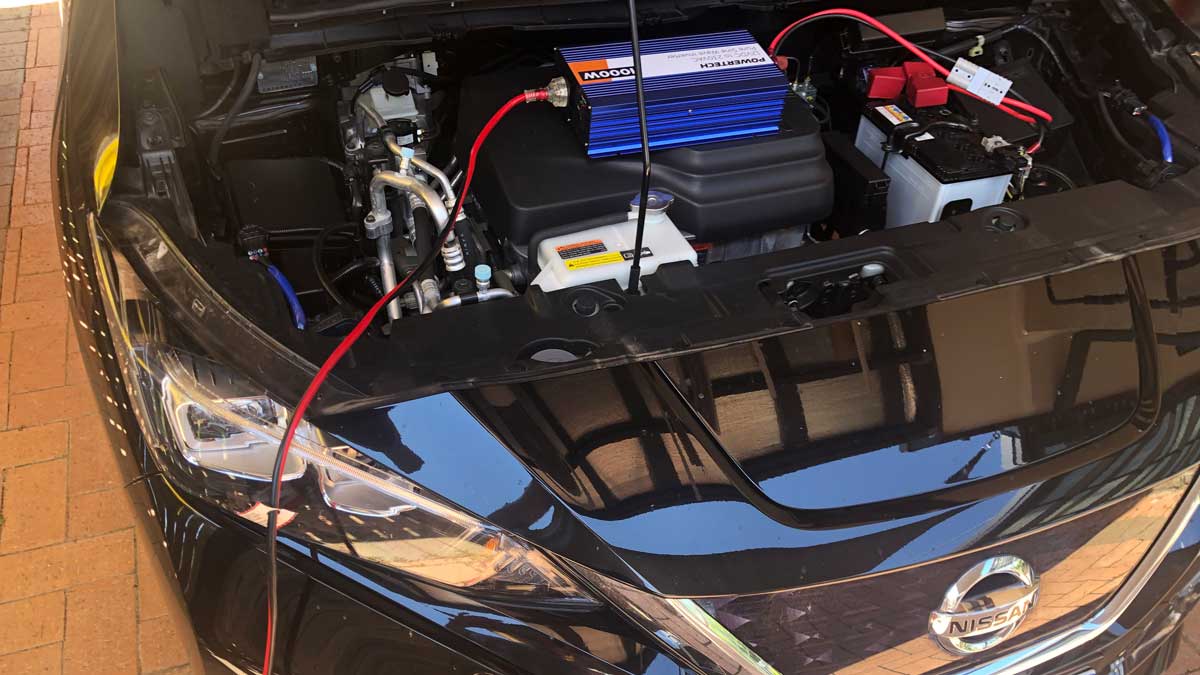 "We ran the inverter three times a day for about an hour …. and the inverter ran off the …. big battery underneath the car," says Shane.
"That charges the 12-volt battery under the bonnet via a down converter …. the inverter runs directly off the 12-volt battery."
"But," he adds, "to get that drive battery to feed the 12-volt battery you need to actually turn the Leaf on."
By turning the Leaf on, "the down converter keeps that 12-volt battery topped up and that's what runs the inverter."
"So basically you're going from 350 volts DC down to 12 volts DC … then the inverter takes that 12 volts and takes it straight to 230 volts (AC)," he says, adding the system depleted the car's larger lithium-ion battery by approximately 2% a day.
Closing the bonnet gently and using a remote t operate the inverter enabled a bit of protection from the weather.
While the couple admits it was not the ideal solution, they feel they were lucky to get the last inverter.
"We had to rush to cobble things together and it was the last inverter on the shelf so we were lucky to get that," says Shane.
"We're we happy with the solution we had …. at the end of the day we could have a hot shower and we had could have a cold drink and that's all we need."
While they used their black Nissan Leaf for power, they were able to share the white long-range Leaf to get to to work but were faced with another problem: how to recharge the vehicles. While they usually would charge it at home, the backlout forced them to seek public fast-chargers.
"The biggest problem we had for the white Leaf was finding a fast-charger in Canberra," says Shane.
There are currently three fast-chargers in Canberra: one at Fyshwick, one at Greenway and one at the airport.
The first one was already being used by another Leaf, so the couple drove to the airport and spent $17 on topping up the battery. Then, going to charge up the other car, they found that charger was now under maintenance. Another trip to the airport charger and that car was also charged, but they admit they found that frustrating.
Karen: "It's not ideal but doable."
"Hopefully this will get rectified over time as Canberra starts to roll out its EV charger network later this year," said Shane.
Bridie Schmidt is associate editor for The Driven, sister site of Renew Economy. She has been writing about electric vehicles since 2018, and has a keen interest in the role that zero-emissions transport has to play in sustainability. She has participated in podcasts such as Download This Show with Marc Fennell and Shirtloads of Science with Karl Kruszelnicki and is co-organiser of the Northern Rivers Electric Vehicle Forum. Bridie also owns a Tesla Model Y and has it available for hire on evee.com.au.