As we round up the end of the first quarter of 2021 it's time to take stock of the (gradually) increasing choice for drivers on the local EV market, and take a look at what's to come.
As The Driven noted in this article here, the arrival of the MG ZS EV, which is officially Australia's cheapest EV at $40,990 (excluding on-roads), and the Porsche Taycan which starts at $191,000 before on-roads, have both made a splash on the market.
Both represent a widening of the market, offering the most affordable new EV option in Australia to date at one end and a high-end performance experience for those with big pockets at the other.
But what else is to come? Here's The Driven's take on what to keep an eye out for as 2021 rolls along.
Tesla Model Y
It goes without saying that there is a lot of anticipation waiting for Tesla to open the order books for the Tesla Model Y electric SUV. Although it is effectively three-quarters the same as the Model 3 it offers some significant departures, including a full-size hatch at the back (it was also the first to get a heat pump but new Model 3s also now come with this).
It's hard to say what price point Tesla will come in at with the Model Y. While Tesla has tended to start with upper-range variants before introducing the Standard Range models, it has been estimated that with currency conversions, import costs and the outdated luxury car tax, the Model Y could cost anywhere between $80,000-100,000.
It is also uncertain if Tesla is waiting for Model Y production at its Shanghai gigafactory to ramp up before bringing it to Australia, or if it is waiting for its Berlin factory to come on-line.
Mercedes-Benz EQA
The Mercedes-Benz EQA will officially hit the Australian market in April, and is the first all-electric premium SUV to be priced under $80,000 (before on-road costs).
With 426km driving range (WLTP), it offers all the luxurious looks and feels that comes with the German brand, plus the convenience of a powered tailgate, and oodles of connectivity, driver-assist and infotainment inclusions.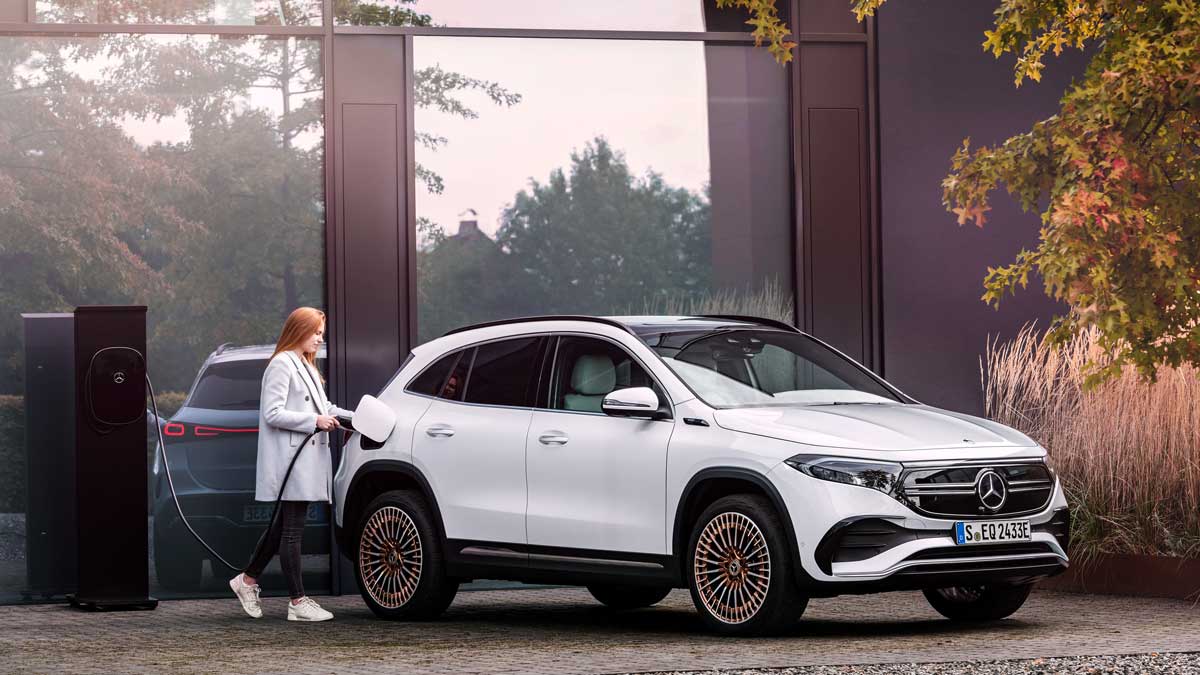 Hyundai Ioniq 5
The first electric vehicle from the South Korean carmaker to be built on a pure electric platform, the Ioniq 5 is expected in the latter half of 2021. Its most important departure from other pure electrics on the local market will be an industry-first ability to use the on-board lithium-ion battery to charge devices.
This "Vehicle-to-Load" (V2L) function could potentially change the EV landscape particularly for those who want to pitch their tent and heat the kettle too.
Available in two battery options (58kWh or 72.6kWh), and the choice of rear-wheel-drive or all-wheel-drive, this strapping vehicle promises to present a whole new chapter in the EV market in Australia.
Nissan Leaf e+
The Nissan Leaf, now a stalwart of the electric vehicle landscape, will get a serious upgrade in Australia this year when it arrives in its e+ format with a larger 62kWh battery and the longest driving range for the modest electric hatchback at 385km (WLTP).
It has been slated for an early 2021 release and is expected to be unveiled on the Australian market imminently. Of interest also is when and if this release will coincide with the ability to use the Leaf's on-board V2H (Vehicle-to-Home) two-way charging capability.
BMW iX
Now confirmed for the last quarter of 2021, the BMW iX will offer one of the longest driving ranges on the local market when it arrives. For those needing to drive regular big distances and with the wallet to match, this could be a good option.
BMW says it will offer the iX in two variants: the xDrive40 with around a 70kWh battery and 400km driving range, and the xDrive50 with a 100kWh battery and 600km driving range (WLTP). It will also be 5G-enabled to take advantage of fast, responsive digital connectivity.
Polestar 2
Volvo has already begun making preparations for the introduction of the Polestar 2 in Australia, appointing local personnel to head up the Swedish-Chinese carmaker's electric-only brand.
It has also confirmed that the electric crossover, which has been received warmly in Europe, will arrive here by the end of 2021.
While specifications are yet to be confirmed we can be fairly sure to expect the same 78kWh battery and 500km driving range (WLTP) as has been offered in the UK, along with a slew of driving assist features.
Bridie Schmidt is associate editor for The Driven, sister site of Renew Economy. She has been writing about electric vehicles since 2018, and has a keen interest in the role that zero-emissions transport has to play in sustainability. She has participated in podcasts such as Download This Show with Marc Fennell and Shirtloads of Science with Karl Kruszelnicki and is co-organiser of the Northern Rivers Electric Vehicle Forum. Bridie also owns a Tesla Model Y and has it available for hire on evee.com.au.