Australian bus maker Bustech has cut a deal to make electric buses in collaboration with Proterra, a major US-based maker of commercial electric vehicles and technology.
Under the new deal, the Burleigh Heads-based Bustech will make its ZDi 12.5 meter transit bus using Proterra's battery technology in early 2021, signalling the US company's first entry into the Australian market.
Using Proterra's 450kWh battery packs, the all-electric Bustech ZDi will be able to drive up to 325km before requiring a recharge.
Bustech says in its release that the choice of Proterra's battery technology lies in its liquid-cooled and thermal management systems, which will make the batteries better suited to Australia's typically high temperatures.
But there is more to it than that, Bustech group managing director Christian Reynolds tells The Driven – it is a sum of all the considerations of energy density, depth of discharge, time to recharge and subsequent operational uptime.
The Bustech ZDi – for which the group has 40 confirmed orders and a significant number of orders under quote – will be the first off the block using the Proterra battery.
But the selection of the Proterra battery was also guided for a "whole of fleet operations" which will include a future double decker and articulated bus, according to Reynolds.
In fact, the new deal with Proterra will underwrite a burgeoning electric bus industry in Australia. According to Reynolds, in the next 18-24 months two more locations will be announced for more bus manufacturing facilities.
"Everybody within our organisation is extremely excited to be in a partnership with Proterra," said Bustech CEO Thinus Steyn in a statement.
"Since I joined Bustech as CEO in January 2020 we have focused on creating a business and engineering environment which is ready for the adoption of the technology advancements that will drive our industry forward.
"We have upskilled the group over the last six months with the capacity and capability to bring the ZDi Proterra-powered electric vehicle to market in early 2021 and have a significant number of orders in the pipeline which we have been working on in advance of the announcement of our partnership."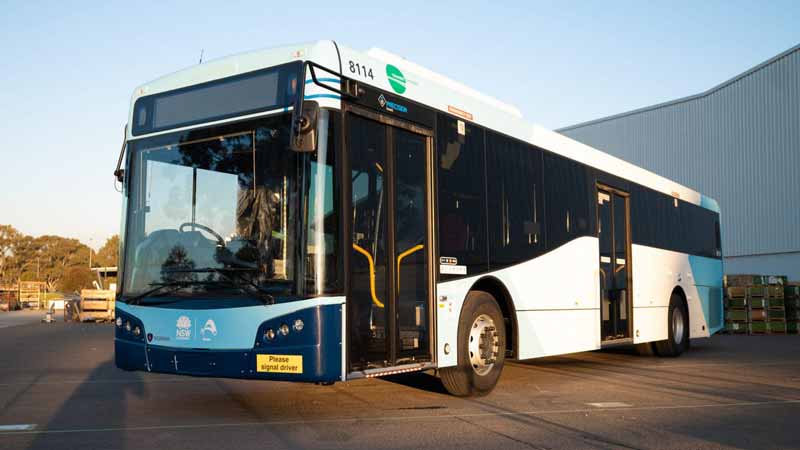 In the case of a thermal event, Proterra says that its patented technology, which includes monitoring sensors and passive propagation resistance can isolate cells to ensure the heat does not spread.
Gregg Dinning, Bustech CTO, says he is really impressed with Proterra's battery technology for its energy density as well as its inbuilt control system.
"This will translate into a vehicle with unparalleled performance and safety," said Dinning in a statement.
"Our aim is to introduce product which is deployable into operating network without having to remodel the full fleet or depot service model.
"By delivering an estimated 325 km range per drive cycle we can support operators through adoption and roll out of full electric vehicles, based on the battery energy levels, whilst acknowledging and dealing with the specific climatic conditions we face in Australia," he said.
"Proterra is excited to take our battery technology and expertise to the Australian transit market with Bustech. Our best-in-class battery technology platform has been proven in more than 13 million service miles driven by our fleet of battery electric transit buses in the United States and Canada," said Jack Allen, Proterra CEO and chair in a statement.
"Now, we look forward to delivering the benefits of Proterra Powered clean, quiet electric vehicles to even more people around the world," said Allen.
Bustech is a pioneer in electric mobility having made what it says is the first locally-manufactured first electric bus. In 2019 it joined forced with the Australian Bus Corporation (ABC) to become the largest bus manufacturer in Australia.
Bridie Schmidt is associate editor for The Driven, sister site of Renew Economy. She has been writing about electric vehicles since 2018, and has a keen interest in the role that zero-emissions transport has to play in sustainability. She has participated in podcasts such as Download This Show with Marc Fennell and Shirtloads of Science with Karl Kruszelnicki and is co-organiser of the Northern Rivers Electric Vehicle Forum. Bridie also owns a Tesla Model Y and has it available for hire on evee.com.au.