Australian start-up Jaunt Motors is making plans to bring new life to the thousands of old Land Rovers hiding in sheds across Australia, by converting them to electric to create a new holiday car hire experience, while at the same time creating a unique opportunity to support a new generation of female technicians.
Dave Budge and Marteen Burger say they launched the idea because of a desire to share the experience of exploring Australia's pristine and diverse landscapes in the definitive mode for outback travel – the hardy 4X4 offroad Land Rovers that once roamed Australia far and wide – but with a climate-friendly, electricity-powered motor.
Originally a favourite for Australians in the 1950s and 1960s who needed an unstoppable utilitarian workhorse to tackle day-to-day challenges in Australia's rugged outback, the Australian sales once accounted for one in two Land Rovers made, Budge says.
Like any vehicle though, Land Rovers (or Jeeps, or Landcruisers) do stop, with drivetrains and engines wearing out, and as more modern 4X4s entered the market, many Land Rovers were relegated to farm sheds and garages across the country.
But now, thanks to Jaunt Motors, these old relics may have a chance to live again.
"The kind of vehicles that Australians buy are not luxury sedans, and they're not really even hatchbacks. We're dominated by 4×4 utes and SUVs," says Budge.
The conversation about electric cars in Australia sparked this week by Labor's proposed target of 50% electric vehicle sales by 2030 prompted prime minister Scott Morrison to protest that EVs are a "war on the weekend" and by implication all that personal transport means to Australians.
For Budge, nothing could be further from the truth.
"We are up-cycling old four wheel drives and Australia has a really unique opportunity," he says, noting that thanks to our dry climate and their aluminium bodies, old Land Rovers stockpiled around the country have not rusted and are also perfect for conversion due to the large, boxy space afforded by their utilitarian design.
"That look is nostalgic and feels like Australia whether you've ever driven one or not, and part of the reason that we buy the vehicles we do, being Australian and doing the things we do such as camping, is wrapped up in vehicles for exploration and adventure," says Budge.
With so many Land Rovers out there, it's not so much a matter of finding them but selecting the right ones to convert.
This is something that Budge and Burger plan to do hand in hand with businesses and regional communities, providing conversion kits and training to those wanting to offer converted Land Rovers as part of a tourism opportunity.
With regional entities such as tourism boards, local councils, the venture also represents the chance to create a unique opportunity for regional communities to skill up for the new era of electric mobility by teaching locals to convert the old 4X4s to electric drivetrains.
One such partnership which is currently being discussed is with the City of Greater Bendigo and Bendigo Tech School, which will represent a real chance for students to learn how to convert vehicles to electric drivetrains.
"We're not trying to invent new technology – there has been incredible work done by the industry as a whole in DIY converters over the last 5 years," Budge says.
"The engine is the most complex part of the car and once you remove an engine and replace it with an electric motor – it is a skillset that can be can be taught."
As Graeme Wiggins, director of Bendigo Tech School, explains, the partnership that Jaunt Motors is proposing is a perfect fit for the school which focusses on the creation of innovative opportunities in current and emerging technologies for 8,500 students across the local area.
With Bendigo's long-standing history of manufacturing in mind and an interest in electric vehicles, Wiggins has for some time been toying with the idea of somehow introducing a project to bring the two together for young local women in particular.
Only 17% of people with science, technology, engineering and mathematics (STEM) qualifications are women, according to the "Advancing Women in STEM" report published by the federal Department of Industry this month.
"I floated the idea of creating EVs as a girls in STEM project, to create opportunities to explore some of the areas and career pathways traditionally dominated by males," Wiggins tells The Driven.
By chance, the City of Bendigo's manager of regional sustainable development, Trevor Budge, knew of someone that might be able to help – his son, Dave Budge.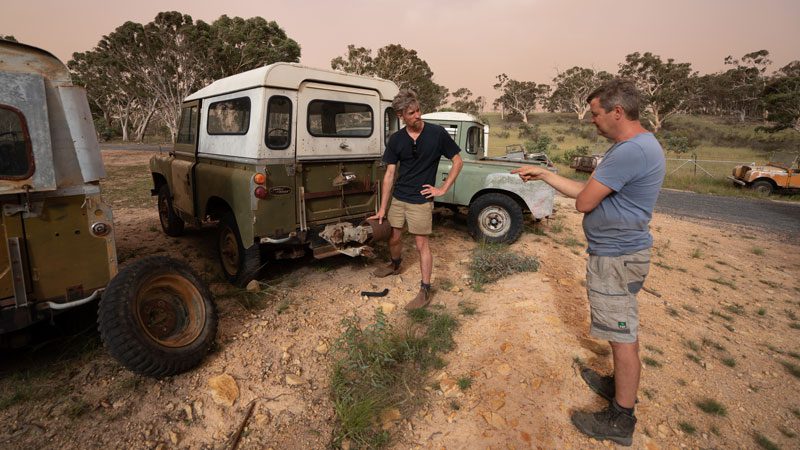 A talk with Dave Budge suggested an incredible synergy that started an ongoing discussion about how a Jaunt Motors partnership could benefit the Bendigo region in a number of ways.
While the finer details of the partnership are still being nutted out, Wiggins explains that in addition to creating educational opportunities to teach young women from local schools and enhancing last-mile tourism in the area, the partnership would see businesses, trades and enterprise in the local area engage with students via in kind support.
"I saw an opportunity to nail so many things in one project – supporting women, tourism, social engagement with community and creating a community asset," says Wiggins.
Wiggins says so far, the concept of the partnership has an incredible amount of support from the local council and businesses.
"It could have a very tangible outcome, it capture's peoples imagination, and could have enormous value for people coming into Bendigo," he says.
And the simplicity of the Land Rover's construction makes it a great starting point for electric drivetrain conversions.
"By limiting choice to one vehicle and one engineering option, there are enormous benefits for the efficiency of [educating on] conversion," Wiggins says.
"An old Land Rover is a great starting point because its very simple in its construction but the tech in terms of electric drivetrain, those skills can transfer into so many new forms of mobility – scooters and skateboards and bikes," Budge says.
Converting the Land Rovers for use in the area they will be hired in also creates a connection between the people and their community, and the people who may hire the converted vehicle.
"There's driving around a country area in a Corolla with a Hertz sticker on the side of it, then there is driving a vehicle that is an old Land Rover that is ideally sourced from that area," Budge says.
"It has providence not because of its brand but because it is an individual vehicle that has been are ideally converted to electric by that community and is contributing to the economy and the local environment in a positive way."
While conversion can be expensive – amounts of $30,000 and upwards are not uncommon – the business case for renting out converted Land Rovers makes sense too, says Budge.
Range and battery size can be tailored to the location that the Land Rover will be hired out in, meaning that no more than is necessary needs to be spent on expensive battery technology.
Also, hiring out the vehicles for the life of the battery represents a decent return on investment.
"We're not trying to create one vehicle times a thousand times …. If what we can create is bespoke for each location with obviously batteries being the biggest expense, it's a bit of a different equation," he says.
"When you are selling a vehicle you are  trying to get to a price point, but we can make something that's a bit more expensive knowing that the rental period that people would be using [the car for] is a bit longer and the ROI then makes sense."
Budge hopes that the simplicity of the Land Rovers will break down barriers for people hesitant to experience driving in electric vehicles.
"As beautiful as some of the interfaces are in modern vehicles, it's still a barrier – it's a lot to learn and a lot to take in, so making electric vehicles seem as simple as possible for short term rentals … [we hope] will slowly start that conversation and start a little shift."
Deep down, Budge admits aside from the idea of putting back into the community by providing the opportunities to convert and then rent out the Land Rovers, his own wish is simple.
"I just want to drive around in a four-wheel drive without making any noise."
Bridie Schmidt is lead reporter for The Driven, sister site of Renew Economy. She specialises in writing about new technology and has been writing about electric vehicles for two years. She has a keen interest in the role that zero emissions transport has to play in sustainability and is co-organiser of the Northern Rivers Electric Vehicle Forum.