Classic MG owner Mark Newell says he is "over the moon" with the results of his 1999 MG-F electric conversion.
Newell bought the little blue MG-F roadster two decades ago and gave it a second lease on life after a mechanic declared its engine a goner.
"It was a fun little car but the motor was plagued with issues," he tells The Driven. "It was acting funny and I took it to the mechanic who said, 'Nup that's it'," and quoted Newell $8,000 to replace the motor with a reconditioned one.
Suspecting this would ultimately result in similar issues – the head gasket had been playing up, for example – Newell declined the engine replacement but was reticent to take what had been the family's daily vehicle to the wreckers.
"The body was in immaculate condition, it's got no rust," he said. "I just felt it would be a real shame to chuck something away like that, or sell it for scrap. That would be sad."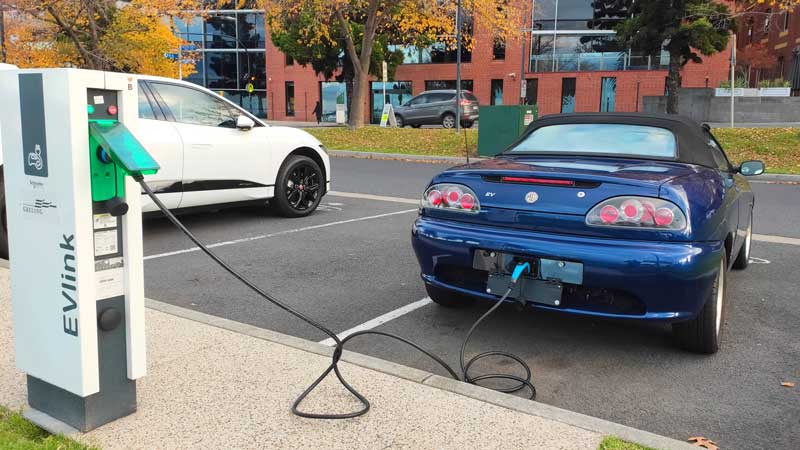 The Geelong resident tells The Driven that after finding a local EV conversion group, his interest in converting the car to electric drivetrain was sparked, so to speak.
However, his hopes for a simple kit conversion was dashed, but the fact some in the UK had already converted their classic MGs meant he knew it could physically be done.
Ideas of a cheap (but perhaps not cheerful) conversion using an old washing machine and lead acid battery pack were quickly hosed down by the EV conversion group.
"They said 'No, don't do it like that, do it properly'," he says with a laugh.
The cost of an electric vehicle conversion is as long as the figurative piece of string – tales of up to $90,000 have been told here on The Driven.
However, Newell was able to track down some low cost components that meant the conversion was a lot easier on the pocket.
"I was able to pick up a Siemens AC motor that was made for a Ford Transit van – the company that had been making them in the US had liquidated, so that saved a bit of money," he says.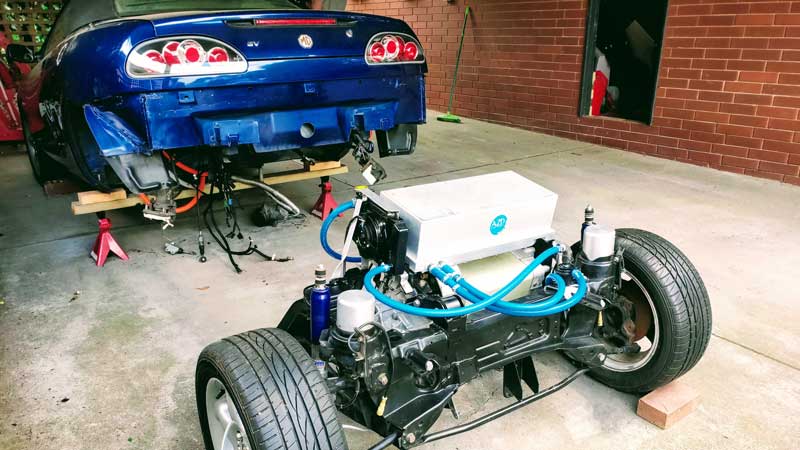 As with new electric vehicles, the biggest cost is batteries.
"After a bit of searching I found that there was a Nissan  Leaf battery pack in Japan. I imported it, and landed [it cost] about $3,500," says Newell.
With restricted space and weight limits that had to be kept to the original tare, Newell managed to fit 20kWh out of the Leaf's 24kWh total capacity, split between space under the bonnet and behind the rear seats where the fuel tank had been.
"I'm pretty happy with that," he says. "It worked out alright because having spare battery modules meant I can replace low cells."
The full list of components used includes:
20kWh Nissan Leaf Pack
Siemens Azure AC Induction 3 Phase Motor
Azure Dynamics DMOC 645 water cooled Inverter with GEVCU
Zeva BMS
Tesla water pump
Chevy Volt DC-DC
Mess Fluid heater and heated seat kit
Type 1 charge port (I have cable so I can charge at Type 2 charge stations)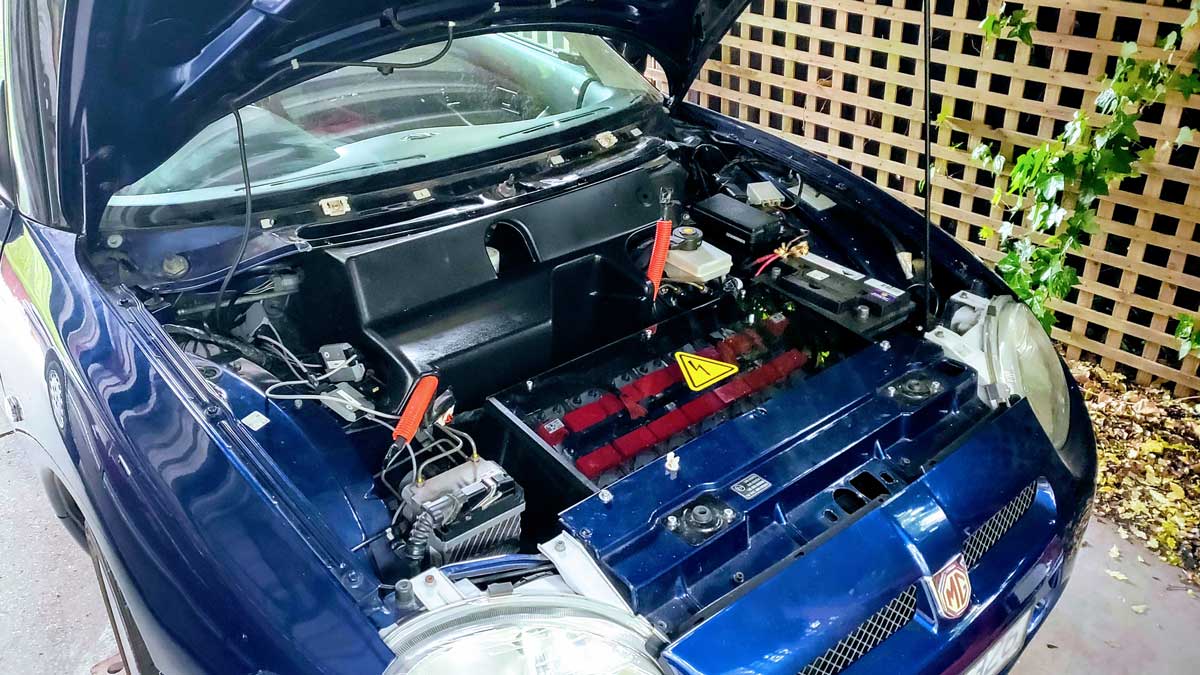 He says that the driving the MG-F is now smoother than ever, and a crunching noise when hitting reverse is gone, replaced with a reverse switch for the electric motor.
In regards to driving range, Newell says he has driven 70km but was not driving very efficiently at the time, and reckons he could get 80-90km in ideal conditions.
The Type 1 charging plug is neatly hidden behind rear number plate, as it didn't fit in the fuel cap without cutting bodywork, and thanks to Geelong's waterfront chargers topping up when in town is easy.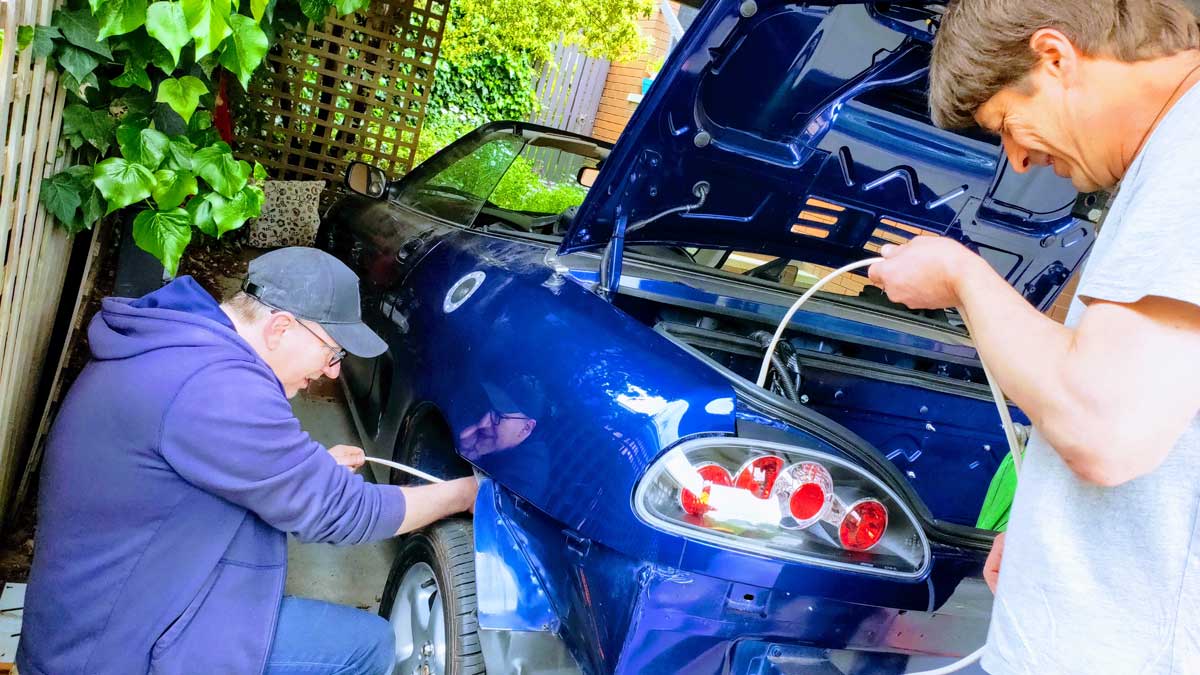 The entire cost of the conversion?
"The conversion cost me all up around $15,000," says Newell adding that, "I had a lot of fun, although it took a while to do given it was only a hobby project and I did in spare time in a carport."
"It took two and half years including waiting for battery to be imported, and an adapter plate to be made, and so on," he says.
But it was all worth it.
"The end results, I'm over the moon with, it's way better than I thought," he says.
"It's more enjoyable to drive now, it's quieter, it has more acceleration and pickup, it's a really sporty good little car now and I really enjoy it."
You can check out more photos of Newell's conversion at electricMG.com.
Bridie Schmidt is associate editor for The Driven, sister site of Renew Economy. She has been writing about electric vehicles since 2018, and has a keen interest in the role that zero-emissions transport has to play in sustainability. She has participated in podcasts such as Download This Show with Marc Fennell and Shirtloads of Science with Karl Kruszelnicki and is co-organiser of the Northern Rivers Electric Vehicle Forum. Bridie also owns a Tesla Model Y and has it available for hire on evee.com.au.