An electric vehicle battery that its proponents say could recharge to 85% in just six minutes could be made at a Townsville factory being planned by Australian company Magnis Energy Technologies.
Magnis Energy says in a statement that its partner Charge CCCV (C4V) has successfully tested a lithium-ion cell with a six minute charge time, labelling it a "potential game changer" for EV makers.
Magnis also says it could produce a battery with the extra-fact charging (EFC) capability in Australia, presumably from its planned $3 billion "Giga-scale" factory in Australia, for which it has received $3.1 million in grants from the Queensland government.
Australia is rich in natural resources that are used in the manufacture of electric vehicle batteries, a fact highlighted by Tesla CEO and co-founder Elon Musk on Saturday when he tweeted that Australia is the source for lithium used in Tesla car batteries.
Also, we get our lithium from Australia

— Elon Musk (@elonmusk) July 25, 2020
If Magnis succeeds in producing very fast charging batteries at scale in Australia it could put Australia – which is currently a laggard in terms of EV development, manufacture and sales – at the forefront of the EV industry.
Electric vehicles (EVs) face a number of hurdles, one of them being breaking down the barrier of charging time. While EVs can be charged at home overnight, much like a mobile phone, there will always be times when a quick "top up" is required when out and about.
The "extra fast" charging time announced by Magnis was achieved using a 25kWh battery – about the same size as early model Nissan Leafs – but differs in the fact that while fast charging batteries typically degrade very quickly, this one can cycle 650 times before hitting 80% energy capacity.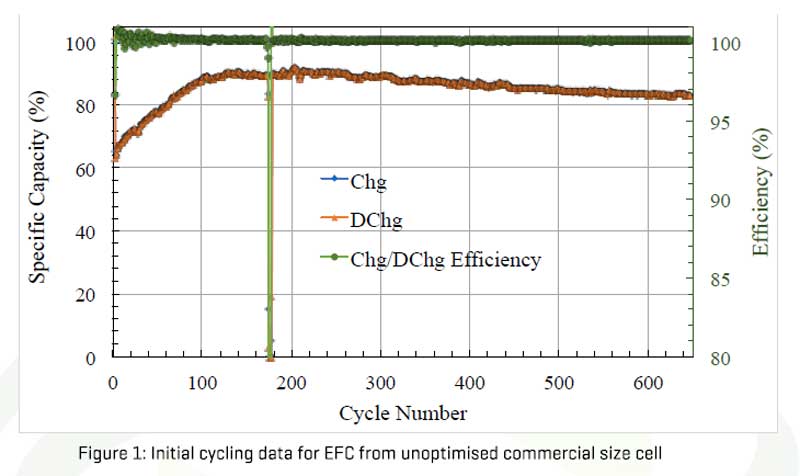 To achieve this, the C4V cell is made of a "bio-mineralised lithium-mixed-metal-phosphate" (BM-LMP) cathode and anode. The company has performed the tests on unoptimised cells and plans to conduct "end use system level" tests in coming months.
"Fast charging is equally synonymous with batteries degrading quickly, however today's results using an unoptimised cell are exciting and will improve further as the cell is optimised," said Magnis chair Frank Poullas in a statement.
"Today's results are very exciting and our potential partners in the automobile industry have been highly encouraged by the data produced so far," C4V president Dr Shailesh Upreti said.
Upreti says that the company will undertake to deliver a 25kWh battery with the extra-fact charging (EFC) capability to an EV maker although it did not announce a timeline for this, but confirmed the C4V team is developing a 25-50kWh battery for demonstration purposes when the program ends.
Magnis submitted a feasability study to the Queensland government for the Townsville gigafactory, which will be built in Woodstock about 40km from the port of Townsville, in October 2019.
To be built by Imperium3 Townsville (iM3TSV), which is 33% owned by Magnis Energy Technologies, the Townsville factory will build cylindrical 32700 cells which it says is "better suited to high volume manufacture and offers improvements in performance and cost whilst still maintaining flexibility in the range of applications for its use."
The new announcement bolsters reports in March that it is continuing to push forwards with a plan to build a battery factory in the Queensland town of Townsville with an 18GWh annual capacity to be built in three stages, and indicates a future for Australia in the growing electric vehicle industry at the manufacturing level.
An additional New York factory is also planned by Magnis, which will have a 15GWh output per year.
Bridie Schmidt is associate editor for The Driven, sister site of Renew Economy. She has been writing about electric vehicles since 2018, and has a keen interest in the role that zero-emissions transport has to play in sustainability. She has participated in podcasts such as Download This Show with Marc Fennell and Shirtloads of Science with Karl Kruszelnicki and is co-organiser of the Northern Rivers Electric Vehicle Forum. Bridie also owns a Tesla Model Y and has it available for hire on evee.com.au.