Wuling Hong Guang Mini EV has overtaken Tesla Model 3 as the world's most popular electric vehicle for the first time, according to the EV Sales blog.
The tiny budget EV, manufactured by SGMW – a joint venture of Chinese giant SAIC, Liuzhou Wuling Motors Co Ltd, and General Motors – sold 32,762 units in January, compared to 21,589 units of Tesla's Model 3.
The four-seater car, which is designed for city drivers, has exploded since it was launched last July in the Chinese market, selling more than 160,000 units in the seven months by the end of January – and that's before it has even been launched in markets outside Asia.
Its popularity is explained by its low price – it costs between RMB 28,800 ($US4,450 ) and RMB 38,800 ($US6,000) USD), a quarter of the price of Tesla's cheapest Model 3.
Tesla's Model Y was the third biggest selling model, with 9,597 units sold in January. But after that it was all Chinese models for the next six placed.
The BYD Han EV, which could arrive in Australia some time soon, sold 9,298 units, followed by GW (Great Wall) ORA Black Cat and GAC Aion S, both selling 6,092 units.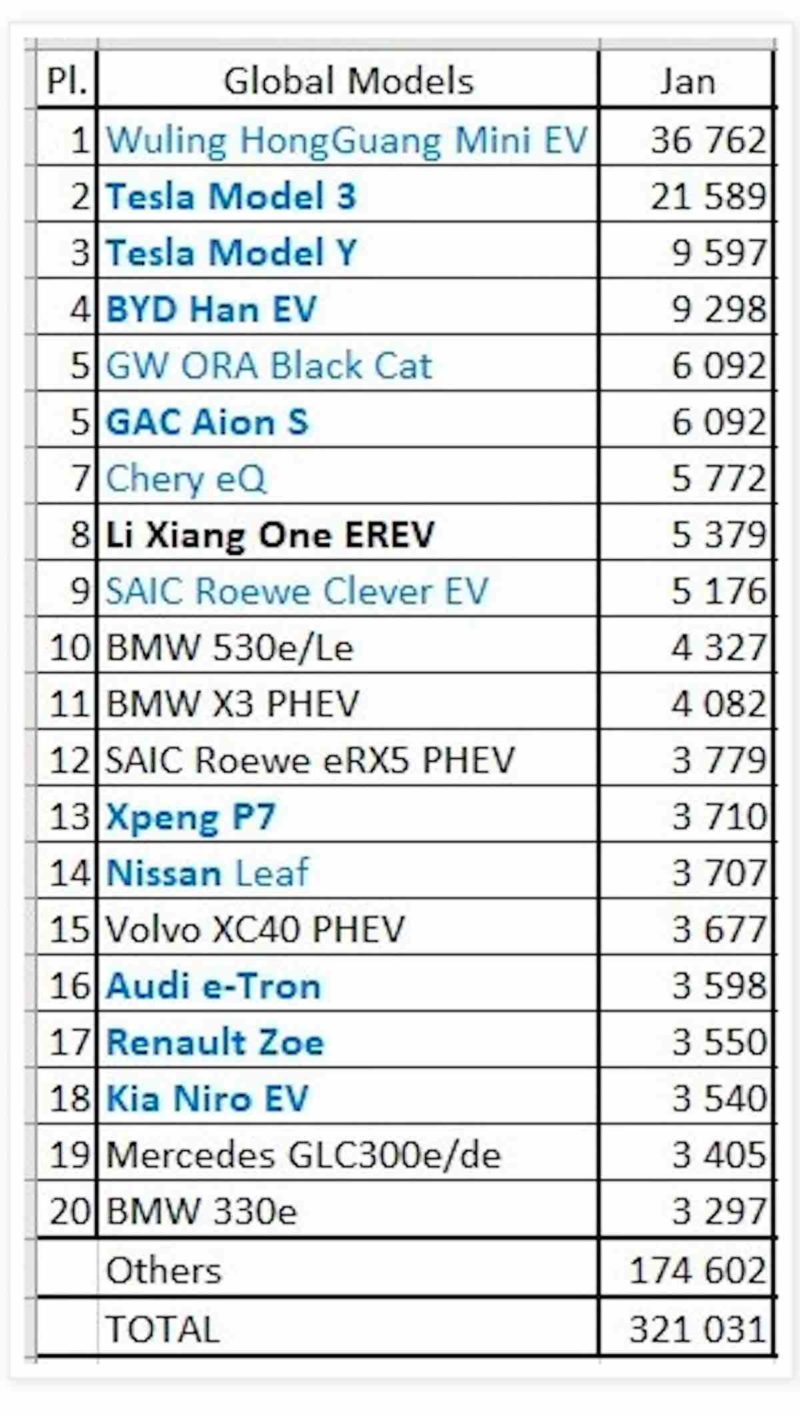 SGMW was the biggest-selling EV maker in January, selling 38,896 units, followed by Tesla, which sold 33,063. BMW, BYD, SAIC, Mercedes and Volkswagen followed. In total 321,031 battery electric vehicles were sold in January.
That meant the Wuling Mini EV accounted for more than 10 per cent of all new all-electric EVs sold in January.
Battery EVs were up 132 per year on year, while plug-in hybrid EV (BHEV) sales grew 80 per cent year on year, with China representing 54 per cent of BHEV sales.
So far there has been no word on when the Wuling Mini EV might be made available in Australia.
James Fernyhough is a reporter at RenewEconomy and The Driven. He has worked at The Australian Financial Review and the Financial Times, and is interested in all things related to climate change and the transition to a low-carbon economy.